Don't let money get in the way of education.


After all, the more skills we have, the more money we make.
To fix this gap, we're proud to introduce the Skills Rebate program.
Based on performance in the graded assessments, students earn up to $500 cash back towards their enrollment.
I will push you as if I hired you to run marketing at one of my companies.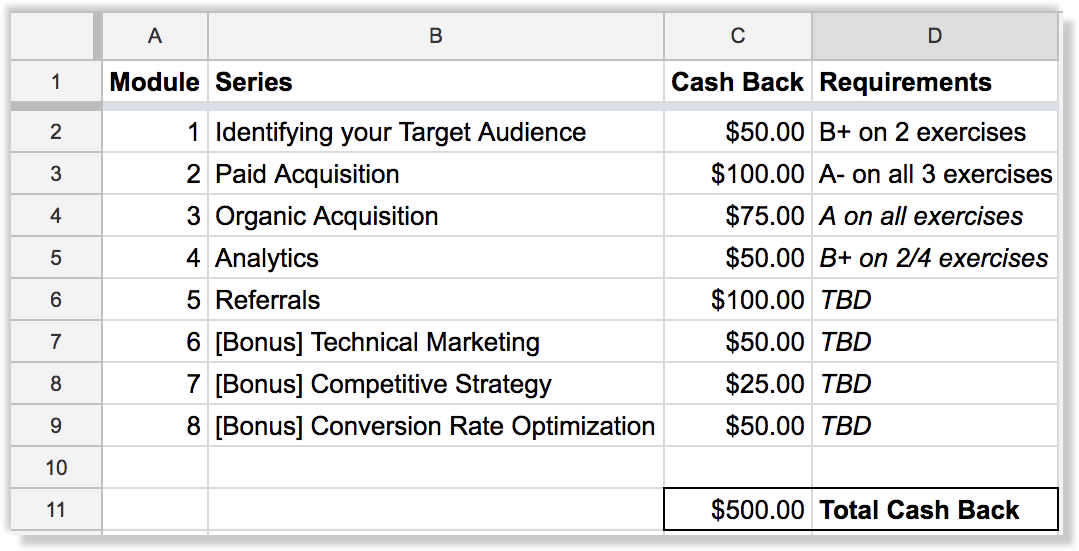 How it works
Enroll in the course
Complete the required assessments (1-2 per module)
Earn $25-$100 cash back per grade, up to $500 total
Enroll in the course
Up-front payment of $1,999 or 4 monthly installments of $600.
Complete the required exercises
Each module has a few exercises for you to consider. Only ~1 is required per module, but all exercises are marketing campaigns you can implement at your company.
Earn rebates
As you complete each module and submit your assessments, we'll review them for accuracy and quality within 1-2 days of submission.
As you ace each assessment, instant rebate. Have questions? Email ryan@gxacademy.com.